We are now accepting applications for our Spring 2023 Litters!
We have litters coming up Spring 2023!  We are currently accepting deposits and reservations for these litters!! 
Harlow and Django
Sadie and Frankie  
Brandy and Frankie
Contact us for more information on our upcoming litters!
Rosebud's St. Nicholas "Django"
Breeder reserves the right to holdback puppies for its breeding program.  Breeder also reserves the right to change the stud at their discretion for various reasons to improve the litter.
We Proudly use Paw Print Genetics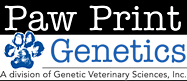 Paw Print Pedigrees allows breeders to show the world that they care about the genetic health of their dogs and that they screen for known diseases.
Orhopedic Foundation for Animals
OFA's mission is to promote the health and welfare of companion animals through a reduction in the incidence of genetic disease.