We are now accepting a limited number of applications for our Fall 2021 and Spring 2022 Master Wait List
We will have 2 litters in the Fall of 2021.  Ivy and Augie will have small-Medium puppies ranging from 25-35 pounds.  They will be chocolate, chocolate and white and white with caramel markings.   Mazie will also have Caramel puppies with a yet to be decided mate.  Mazies puppies will range from 20-30 lbs.   We expect the puppies to be born in September and October and go home in November and December.   We are now accepting applications for our Spring 2022 litters!  We will have 4 litters in Spring 2022..
Sierra Springs Augie Doggie
Breeder reserves the right to holdback puppies for its breeding program.  Breeder also reserves the right to change the stud at their discretion for various reasons to improve the litter.
We Proudly use Paw Print Genetics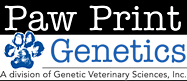 Paw Print Pedigrees allows breeders to show the world that they care about the genetic health of their dogs and that they screen for known diseases.
Orhopedic Foundation for Animals
OFA's mission is to promote the health and welfare of companion animals through a reduction in the incidence of genetic disease.