Napa Valley Australian Labradoodles
We are a breeder of multi-generation Australian Labradoodles.  We have had Australian Labradoodles in our family for years.  Our children growing up, had severe allergies and asthma, but wanted nothing more than to have a dog in our house.
We came upon the Australian Labradoodles and fell in love.  Their non-shedding hypoallergenic coat along with their amazing, loving and playful personalities was the perfect fit!
As time has gone on we could think of nothing more rewarding than being able to provide these wonderful dogs to families.  Our puppies are born and raised in our home with our family and dogs.  We take pride in following all the guidelines regarding health testing and preserving the integrity of the breed.  Our dogs are bred for health, temperament, and the unmistakable beauty of the Australian Labradoodles!
We Proudly use Paw Print Genetics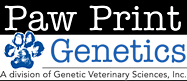 Paw Print Pedigrees allows breeders to show the world that they care about the genetic health of their dogs and that they screen for known diseases.
Orhopedic Foundation for Animals
OFA's mission is to promote the health and welfare of companion animals through a reduction in the incidence of genetic disease.