We have really exciting news!
Recognizing the importance of training and wanting to help you get started in the right direction as quickly as possible, we have partnered with BAXTER & Bella to provide discounted lifetime access to their exclusive MEMBERS ONLY online puppy school, including all the training resources you will ever need, leading to better animal ownership and the very best in canine companionship!
In order to save 25% instantly, remember to use discount code
NAPAVALLEY

at checkout.
We Proudly use Paw Print Genetics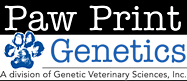 Paw Print Pedigrees allows breeders to show the world that they care about the genetic health of their dogs and that they screen for known diseases.
Orhopedic Foundation for Animals
OFA's mission is to promote the health and welfare of companion animals through a reduction in the incidence of genetic disease.