In an effort to grow our Labradoodle family, and to ensure all of our breeding dogs live the wonderful they life they deserve in their forever home, we have implemented a Guardian Program.The puppy will be the "pick of the litter" chosen by us and given to the guardian family at no cost to them. The guardian dog is part of the guardian home's family, while breeding rights are retained by Napa Valley Australian Labradoodles for a set amount of time (4 litters). We work very closely with our guardian families. Female dogs come to us one week prior to their due date and stay with their puppies for 4 weeks. They then return home to you.
Contact us for more information if you are interested in becoming a guardian family.
We encourage you to visit your dog and her puppies while she is with us! Male dogs come to us for breeding purposes. Once the guardian dog has completed his/her breeding career, he/she will be spayed/neutered at my expense and will remain a forever pet of yours.
Guardian families must live within the cities of Napa and Sonoma.
We Proudly use Paw Print Genetics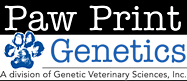 Paw Print Pedigrees allows breeders to show the world that they care about the genetic health of their dogs and that they screen for known diseases.
Orhopedic Foundation for Animals
OFA's mission is to promote the health and welfare of companion animals through a reduction in the incidence of genetic disease.