Please note that our credit card processor charges a 3% fee on transactions. This 3% will be added to the payment submitted here. Napa County sales tax of $231 Tax will also be added to the transaction. The total amount for this transaction will be $3,324.99.
If you would like to pay by cash or check to avoid this fee please contact us directly.  Napa County sales tax of $231 will still need to be collected.
We Proudly use Paw Print Genetics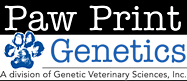 Paw Print Pedigrees allows breeders to show the world that they care about the genetic health of their dogs and that they screen for known diseases.
Orhopedic Foundation for Animals
OFA's mission is to promote the health and welfare of companion animals through a reduction in the incidence of genetic disease.